I told Heather I'd get video of Liam singing Elmo's song. His version goes something like this: "La la la la la la la la la Eh-mo!" But, as usual, the kids, they don't cooperate with your plans.

Here's the first try:



And the second:



Thea was playing with a doll I got her at the thrift store yesterday. She's incredibly gratifying to give gifts to, because she always is delighted and profuse in her thanks. She named the doll Pippi, because her hair is kind of like Pippi Longstocking's, and made her the mommy of her two similar, smaller dolls, Fruitica and Juicica: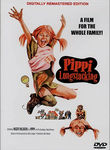 Thea loved Pippi Longstocking, by the way. Her favorite part was when Pippi lifted the horse above her head, and she liked the "silly girl that talked to Pippi" (?). It was a good movie for the fam to watch together, too. Weird enough for the grownups, fun enough for the kids. The only things that were a little iffy: Pippi's mom is dead ("in heaven looking down at her") and her father abandoned her for life on the seas, and Pippi is very mischievous. The night after we watched the movie, Thea playfully spit water at me after brushing her teeth.

Cute, but don't do that again, kid.