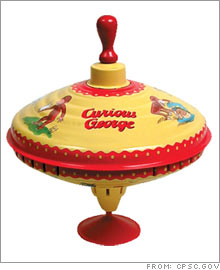 It seems like every day there's something else that was produced in China and is now being recalled. Just yesterday it was unsanitary chopsticks and more leaded toys.

I remember seeing these tops before I had kids and thinking they were so cute, I'd have to get one someday. What makes me most concerned is that these toys were sold from July 2001 through July 2002. That's six years ago. How far back does this go, anyway? Have we been so focused on "the war on terror" that we're neglecting something as basic as making sure there isn't lead — something that is toxic in very low doses — in our kids' toys? I'm fine with taking personal responsibility for sharp points and choking hazards, but how do I guard against something like this?

Local celebrity commenter Monkeyrotica wrote a great response to an Obsessive post from a couple days ago that sums up how I imagine most of us feel, only funnier:


As a cook who's been trying to make informed choices, I gotta say it's a freaking pain in the sphincter. Case in point: I picked up a couple egg rings for making Egg Mcmuffins at home and damn if they weren't made in China and damn if they didn't start flaking "nonstick" coating after one freaking use. So I'm thinking "maybe I don't want Chinese Teflon in my food" and by "Teflon" I mean "spray-on powdered lead." So out they go in the trash.

I used to think that one day, our appliances would rise up and make us their slaves in a kind of Bladerunner distopia except with spice grinders in place of replicants. But now, I'm pretty sure the decades of toxic Chinese junk has rotted our brains to the point where we'd actually welcome an Asian invasion so long as it was on sale at Target.

Good luck finding a pot, pan, bowl, or knife that isn't made in China. I'll probably break down end end up buying these only to find that they're made of recycled nuclear waste by UFO abductees on the alien slave camps on the moon.