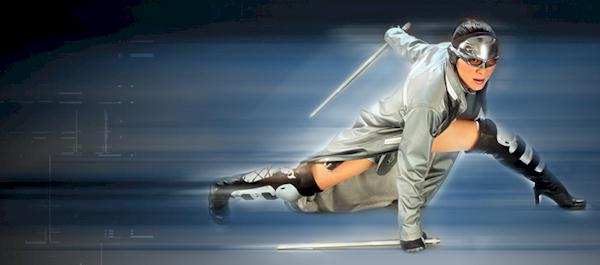 "The law has limits. She doesn't."

For my first morning as someone who is unemployed (briefly and temporarily), I celebrated by watching a whole movie, start to finish, in one sitting. Silver Hawk is about a super model, Lulu Wong played by Michelle Yeoh, who moonlights as a superhero. While the movie is terrible in a lot of ways — badly written and acted, scenarios too implausible even for the premise — it's also tons of fun, gorgeously monochromatic, and the most feminist movie I've seen in a long time.

Lulu's love interest, Rich Man (no, seriously, that's the character's name), is a buffoonish policeman who knew and loved her back when she was a little girl who could kick his ass. He's not the hero, not the one who swoops in and saves Lulu, and not the guy who will out-smart her. But he is a loyal, sweet, and questionably funny dork.

Rich's partner is his long-time friend, gorgeous and competent Lieutenant Lisa. There is no chemistry at all between Rich and Lisa, no subcurrent of sexual tension or innuendo. Though she's totally underutilized, she's the stern Danny Glover to Rich's spazzy Mel Gibson in the buddy-cop paradigm.

Anyway, I could do a big long feminist deconstruction of the movie as a whole and every character in it, but I won't. You're welcome. But if you're looking for a goofy, female-lead action movie that doesn't make you think "Geez, Steve Trevor, out of the way already," Silver Hawk's your gal.