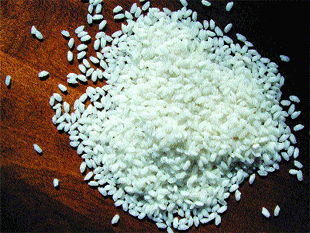 When we had Jennifer over for dinner and a sleepover about a week ago, I was a little unsure about how we were going to work the dinner part. I leave for work around 7 a.m. and get home around 5:15 p.m. That gives me about 15 to 30 minutes to throw together something for the kids to eat when they get home. As most working parents know, we have a short window of time before the kids start losing their shit from low blood sugar, so I've gotten pretty good at quick meals. But there was no way I was going to serve spaghetti or chicken nuggets to a favorite friend who we haven't seen in ages and who was leaving in a week for a year in Africa.

So, I pulled out the crockpots in the morning and attempted a roast chicken in one and risotto in the other. By the way, does anyone have a recipe for a whole chicken in a crock pot? Mine always turn out pretty awful; bland and dry, and something Liam, my adventurous eater, always refuses to even try. (I secretly admire him for his high standards.)

But the risotto turned out surprisingly nice. Not risotto, exactly, since Todd had to start it when he came home from lunch, making the level too low and the cook-time two hours longer than recommended. Instead of creamy and smooth, it had a heavy, gluey mashed potato consistency that was still not altogether unpleasant. I wonder if using brown rice instead and mixing some chicken broth in at the end might have helped that.

At any rate, it was done when I got home from picking Jenn up at the train station, so I really can't complain too much. I found the recipe from A Year in Crockpotting, which has a plethora of interesting recipes.

Ingredients:
1 1/4 cup uncooked Arborio rice
1/4 cup olive oil
1/4 cup white wine
3 3/4 cups chicken or vegetable broth
1 t salt
1/4 t black pepper

2/3 cup shredded parmesan cheese (to add at the very end)


Directions:
Toss the uncooked Arborio rice with the olive oil in your crockpot.
Add the seasonings.
Pour in the broth and white wine.
Stir to mix flavors.
Cover and cook on high for 2 hours, or until the rice is tender. (Instead, we cooked it on low for 5 hours.)

Stir in the shredded cheese and leave uncovered for about 15 minutes to let a bit of the moisture escape.