The adorable Christie tagged me a while ago with the seven-things meme. I've saved answering it until NaBloPoMo, when I knew I'd be desperate for material.

As the highs from Halloween, Dia De Los Muertos, and voting day fade, I turn my attention to another favorite holiday: Thanksgiving! In preparation, here are seven things I'm thankful for:

1. My family. Seriously, sometimes I look at them and I know to my core that I am the luckiest person on the planet. But that's a given, right? Doesn't everyone feel that way?

2. My friends. Last night I went out with a couple friends whom I truly adore, and met three more friends whom I can't wait to see more of. We spent the evening requesting show tunes at a piano bar, drinking tequila, and learning how to curse in sign language. I have a hard time imagining how life gets better than that.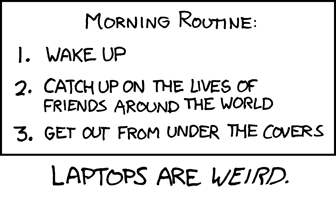 3. Technology. The first thing I do every morning after I wake up is check my email and Twitter updates on my iPhone. This comic from XKCD confuses me. Why would anyone use the infinitely less portable laptop to do that, and this morning routine isn't really weird, is it?

4. Relatedly, my blog friends. After Proposition 8 passed, I was seriously bummed out. It's not overstating to say I was devastated, even. It was shocking to me, and it marred what should have been a night of pure elation. One of the things that really helped was reading posts by my blog and Twitter friends, almost all of whom mentioned being equally dismayed. It gives me hope for the future.


5. Trader Joe's cheap wines. I love wine with dinner, but it can get to be an expensive habit. Trader Joe's wines are a god-send. I try to post here about the wines I like, all in the $5 range, mostly so I'll remember which ones to get. I should make a concerted effort to blog about the ones to avoid, too, since I sometimes buy the same swill multiple times before remembering that I hate it.

On that note, I really liked this Purple Moon Shiraz (2005) The flavor is lush and dry, and it's a total steal at only $4.

6. My dogs. I realize I'm rating them below wine. I don't think I'll change it, either. But I do adore my furry friends. They're great companions, and they've taught the kids a lot about why our fellow creatures deserve kindness and respect. Liam especially loves Hank, our sweet-natured littler and newer guy, and often gives him long, squeeze-y hugs, during which Hank looks forlorn, as if this is the price he must pay for his family. Of course, he's right.

7. Obama. I hesitated about listing our next president. I'm leery of any cult of personality, and I know that eventually I'll be disappointed in some decision or another that he will make. But for right now, for however long it lasts, I feel a hopeful sense that everything is going to be okay, something I haven't felt in almost a decade.